You are right in downtown Phnom Penh, Cambodia's vibrant capital city, and yet you'll hear only birds chirping in majestic trees and the serene gongs of Wat Botum, the royal pagoda nearby.
Tucked in a quiet alley, the period townhouse has been carefully renovated, keeping lovely features such as cement floor tiles with natural pigments. A large swimming pool and shaded lounging areas are nestled in the luxuriant gardens. Jungle mood and tranquility a few steps away from the action.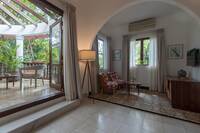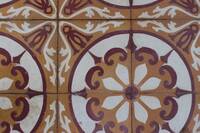 Launched in 2018 as a 'jungle addition' to Penh House sleek hotel next door, your Phnom Penh urban lodge gives the feeling of staying in a precious friends' house reminiscent of Cambodia's Golden 60s.
And as a plus, you can enjoy all what Penh House has to offer while staying with us: another spectacular swimming pool overlooking Phnom Penh greenest area, a rooftop restaurant featuring organic products, Flow Spa...
After a few months of additional renovation, Jungle Addition relaunched October 2023, with attractive rates and a 17-strong team team eager to make your stay as smooth and memorable as possible. Read more here...